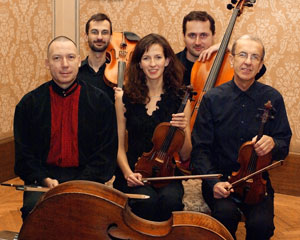 The Parnas has been formed in 1990s' as the Parnas Quartet, followed by its larger line-up Parnas Ensemble in 2007, by members of the Prague Symphony Orchestra to fill a void in the Prague musical community for a high–calibre chamber group performing both light classical and ballroom dance music. Critics have stressed their brilliant art, their virtuosity and sense for a polished dramaturgy of individual performances.
The Parnas Ensemble specializes in pieces of easy–listening classical music, classical favorites, and ballroom dance music. Apart from the well-known works of the classical music literature (Mozart, Haydn, Beethoven, Schubert, Smetana, Dvořák, Tchaikovsky), an integral part of its repertoire is formed by miniatures as well as transcriptions of famous works composed for other instrumental set-up or originating in other genre spheres (Strauss, Offenbach, Gershwin, Joplin).
Its versatile and extensive repertoire enables the Parnas Ensemble to offer classical and contemporary music for varied occasions. Since its premiere engagement, the group has been invited to perform at prestigious international congresses such as the NATO Prague Summit in 2002, at various social events, for dignitaries such as Václav Havel, as well as special occasions and concerts in the greater Prague area and abroad.
Since 2007, the ensemble has recorded two CDs with the most popular classical tunes, performed many concerts, especially in Rudolfinum–the prestigious concert house in Prague, and toured Japan with a great success in 2012 and 2014. It has also recorded for the Czech Television broadcasting, for example in 2013. The Parnas Ensemble strives to satisfy not only the music critics but first, and foremost, its audience of listeners.